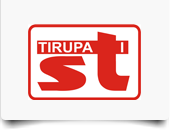 Tirupati
> Our Business >
Mahamaya Mines Pvt. Ltd.

The MAHAMAYA MINES Pvt. Ltd. is a supplier of raw materials and intermediate products, with a focus on ferrous metals, steel and construction materials for a broad range of industrial applications. Its geographic spread provides a balanced exposure to localised economic cycles. This Division is engaged in investing in resource development, as well as procuring and selling raw materials to ensure stable supply of these materials to our customers, which include steel companies and electric power companies and focusing efforts on reinforcing resource investment operations as well as the resource sales business
In trading, the division conducts sales activities for ferrous raw materials for Steel industries such as Billet, Blooms, Cast Iron, Coal/Coke, Iron ore, Iron ore pellet, Ingots, Metallics (DRI, HBI, Pig Iron), Slabs, Scrap, Sponge Iron.